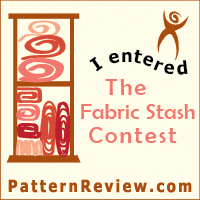 Part of my quest to simplify is to get rid of as much unused and unloved STUFF in my life. Out with the old magazines which might inspire some art. Out with the velvet high heels last worn in 1988. Out with the books which I will never read again, and if I choose to I will get on my Kindle. Among this pile of STUFF is fabric. Each piece was purchased because I loved the color, or the print, or it was cheap, or I was sorting through mountains of questionable choices in a warehouse and had to buy SOMETHING. Maybe I bought some because I wanted to make a particular pattern, but often I just bought it...because.
And then I washed and dried it, folded it carefully, and placed it on one of the 2 shelves I have for fabric. What do you think happened next?
That's right, nothing.
Not using it is worse than buying it carelessly in the first place, IMHO. Those who know me well know what I did...I sewed it up as much as possible. I joined the team on PatternReview and planned my attack. So far I have sewn 17 yards of old, unused, questionable fabric. Hurray!
The contest gallery is found
right here
. (Hover over the blank space to see the link) My work is in there, but here are some of my faves over the last 3 weeks:
As always, click on the photos to make them big.
Cardigan from Simplicity 2474
Jersey dress from M 7092-Las Vegas bound
Now, THIS tee is the best use of scraps. I have a pile of knit scraps which I try to remember to use. I made this using V9055 and had barely enough to finish it. In fact, I had to alter the back length to complete it. I love the style with its raglan sleeves, but the colors...ugh. The camel is from some pjs I made for my husband and we both think it is a blah color.
How big is your stash? Do you like having lots to choose from, or is it overwhelming for you?