....of the Pattern Stash contest on PR, I am settling in for some leisurely sewing. Sewing with a plan and sewing slowly and carefully. Here is what I am making at present-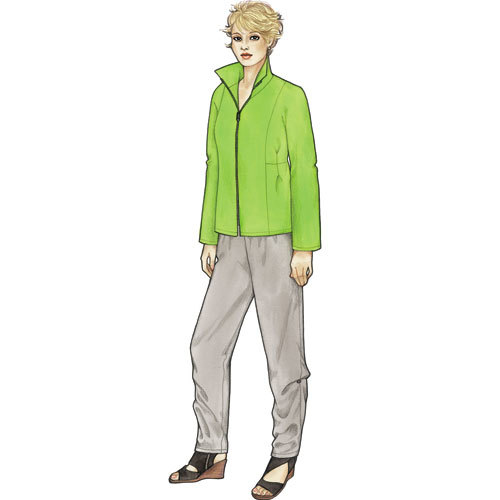 This is Sewing Workshop's Quincy top/jacket (and pants). I cut out the jacket as a medium, using a nice blue and white linen. The only alteration I have made so far is to shorten the sleeves. I'm considering adding a cuff. I will most likely reduce the length after the first fitting, but I want to see what happens to the shape of the jacket when sewn.
This will be a light barn jacket for "cool" mornings and sun protection. My real plan is this-
Add length to the jacket, do not use a closure at all, make 3/4 sleeves and no pleating. This will be a spring coat and I am considering using a nani IRO fabric (herringbone pencil in denim). Or, a strong idealized floral.
Doesn't this sound pretty? I can't take credit as I bought a year of the Sew Confident course from Sewing Workshop. This project using the Quincy jacket is one of the monthly lessons. I am really enjoying the lessons, and will be a repeat customer, I'm sure. Each lesson has clear, straighforward directions, extremely good photographs and illustrations, and result in well made garments with a high end look. What could be better? Here is the link to the class info if you are interested- Sew Confident
Today's blog title comes from my current read. I am reading The Guest Room by Chris Bohjalian, and having lots of fun following the characters. It centers around the aftermath of a bachelor party in which 2 Russian prostitutes make a break for it...after killing their handlers at the party. The novel examines what happens to the brother who hosted the party, and to the wife and daughter, as well as the Russian women. Fun, and engaging.
Other books taking up space on my cyber night table are:
The Luminaries by Eleanor Catton-circuitous and forbidding murder mystery
The Story of a New Name by Elena Ferrante-Book 2 in the Neapolitan series
These is my words by Nancy Turner-a diary of an Arizona settler
All three are highly recommended and I know surely one will be your pick.
Happy Super Bowl,
Mary